Why do we need to plant new worshipping communities?
The Church of England is committed to the vision of 'A Christian Presence in Every Community'. That means making sure that the church is close to everyone in our diocese, both geographically and culturally. Of course that involves our existing congregations making new disciples, but the experience of the church across the country and through history is that reaching those we currently don't will also mean planting many new worshipping communities.
At the launch of the House of Bishops' recent paper on church planting, Bishop Stephen Cottrell, said: "Every church had a beginning. This beginning arose out of a response to God and the desire to reach out to a community of people who did not yet know Christ. Forming a new Christian community was the best way to serve these people and share the gospel. In our own day we are beginning to remember how to plant churches. This is a great movement of the Spirit and a huge blessing to the nation we are called to serve.
To find out more about the potential of new worshipping communities and when they are a good way forward, sign up for our next workshop.
Through this Multiply strategy across the Diocese of York, we're supporting potential new worshipping to reach the missing generations in their 20s, 30s and 40s.
Why 20s-40s?
by Andy Broom, Archdeacon of the East Riding and Diocesan Multiply Ambassador
I'm 54 and far too often I am the youngest person in Church as I go out to different churches Sunday by Sunday! We estimate that less than 10% of our 607 churches have more than 10 people in their 20s to 40s who are regularly in their Sunday congregations .
On average an 81 year old is 8 times more likely to go to church than 21 year old
Our diocesan goal of 'Reaching those we currently don't' recognises this as we commit ourselves to reaching those in their '20s – 40s'.
There are some churches which have managed to retain the generations in their 20s, 30s and 40s but sadly many have not, and therefore, any children these folk may have are also missing from many of our churches. Turning this situation around obviously presents a challenge but there is a growing sense that God is calling us to that task and that by the work of the Holy Spirit we can address this situation.
We will need to embrace new ways – too often our current way of being church is alien to a younger generation. If the current Services can't be changed, then we need new worshipping communities which feel different and may not even meet on a Sunday. We also hope to see a changing ethos amongst us where we share insights, resources and people; and when one church has seen growth, they don't keep it to themselves but look to give away people to start something new elsewhere. Often we are already 'reaching' lots of people in this age range (baptisms, toddler groups, weddings, church schools, social events etc), the challenge is how to we talk about faith with them and accompany them on the journey of discipleship
Our vision is to see every church, parish, benefice and deanery finding ways to reach the 20s – 40s and enabling those who are reached to grow as disciples of Christ, not simply seeing them as numbers to be counted.
We envisage that across the Diocese we will see many new worshipping communities established and flourishing, existing ones renewed, plus many missional activities that will act as 'stepping stones' into existing Services4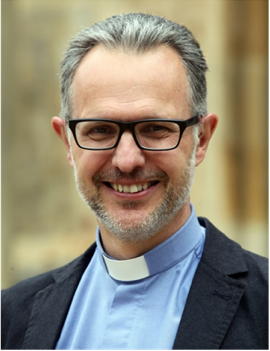 'When I turn up at churches across my patch on a Sunday, I'm too often the youngest person there - still young at 54!'

Andy Broom, Archdeacon of the East Riding